53. podelitev grammyjev se je odvila 14.2.2011 (zgodaj zjutraj po našem času) v Los Angelesu. Na 53. Grammy podelitvi je tako kraljeval trio Lady Antebellum, ki je pobtral kar 5 grammyjev. Gramyja za album leta pa rokerska supina iz Kanade, Arcade Fire (album-The Suburbs).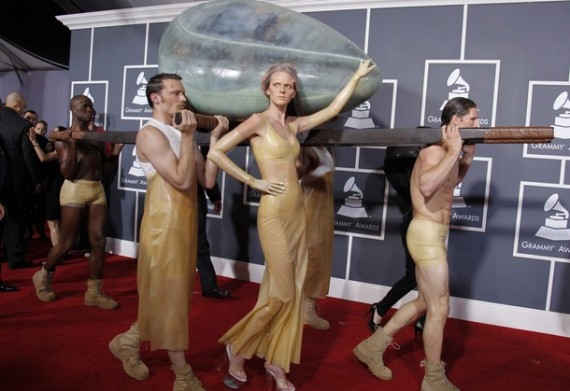 Tokratne grammyje je prenašalo izredno malo televizijskih postaj po svetu. Prenašala jo je televizija CBS, voditelja pa sta bila Esperanza Spalding in Bobby McFerrin. Kategorij v katerih so podeljevali nagrade je 109 tako, da je zmagovalcev veliko. Eminem, ki je imel 10 nominacij in dobil le 2 grammyja je lahko razočaran, prav tako pa Grammyja ni dobil Justin Bieber.
Grammyja za življenjsko delo so pa so že v soboto dobili Julie Andrews, Roy Haynes, godalni kvartet Juilliard, The Kingston Trio, The Ramones, Dolly Parton in George Beverly Shea.
Sedaj pa še seznam zmagovalcev in zmagovalk:
• Album of the Year: The Suburbs, Arcade Fire
• Record of the Year: "Need You Now," Lady Antebellum
• Rap Album: Recovery, Eminem
• New Artist: Esperanza Spalding
• Song of the Year: "Need You Now," Lady Antebellum

POP:
• Pop Vocal Album: Lady Gaga, The Fame Monster
• Pop Performance by a Duo or Group With Vocals: Train, "Hey, Soul Sister (Live)"
• Traditional Pop Vocal Album: Michael Bublé, Crazy Love
• Female Pop Vocal Performance: Lady Gaga, "Bad Romance," The Fame Monster
• Male Pop Vocal Performance: Bruno Mars, "Just The Way You Are," Doo-Wops & Hooligans
• Pop Collaboration With Vocals: "Imagine," Herbie Hancock, Pink, India.Arie, Seal, Konono No 1, Jeff Beck & Oumou Sangare, The Imagine Project
• Pop Instrumental Performance: "Nessun Dorma," Jeff Beck, Emotion & Commotion
• Pop Instrumental Album: Take Your Pick, Larry Carlton & Tak Matsumoto
R&B:
• Female R&B Vocal Performance: Fantasia, "Bittersweet," Back to Me
• Male R&B Vocal Performance: Usher, "There Goes My Baby," Raymond V Raymond
• R&B Performance by a Duo or Group With Vocals: Sade, "Soldier of Love," Soldier of Love
• Traditional R&B Vocal Performance: John Legend & The Roots, "Hang On In There," Wake Up!
• R&B Song: John Legend & The Roots, "Shine," Wake Up!
• R&B Album: Wake Up!, John Legend & The Roots
• Contemporary R&B Album: Raymond V Raymond, Usher
RAP:
• Rap Song: Jay-Z & Alicia Keys, "Empire State of Mind," The Blueprint 3
• Rap/Sung Collaboration: Jay-Z & Alicia Keys, "Empire State of Mind," The Blueprint 3
• Rap Performance by a Duo or Group: Jay-Z & Swizz Beatz, "On to the Next One," The Blueprint 3
• Rap Solo Performance: Eminem, "Not Afraid," Recovery
• Urban/Alternative Performance: "F*** You," Cee Lo Green
ROCK:
• Rock Album: Muse, The Resistance
• Solo Rock Vocal Performance: Paul McCartney, "Helter Skelter," Good Evening New York City
• Rock Performance by a Duo or Group With Vocals: The Black Keys, "Tighten Up," Brothers
• Rock Song: "Angry World," Neil Young, Le Noise
• Hard Rock Performance: New Fang, "Them Crooked Vultures," Them Crooked Vultures
• Metal Performance: "El Dorado," Iron Maiden, The Final Frontier
• Rock Instrumental Performance: Jeff Beck, "Hammerhead," Emotion & Commotion
COUNTRY:
• Country Album: Lady Antebellum, Need You Now
• Female Country Vocal Performance: Miranda Lambert, " The House That Built Me," Revolution
• Male Country Vocal Performance: Keith Urban, "'Til Summer Comes Around"
• Country Song: "Need You Now," Dave Haywood, Josh Kear, Charles Kelley & Hillary Scott, songwriters (Lady Antebellum) (Need You Now)
• Country Performance by a Duo or Group With Vocals: Lady Antebellum, "Need You Now"
• Country Instrumental Performance: Marty Stuart, "Hummingbyrd" (Ghost Train: The Studio B Sessions)
• New Age Album:Miho: Journey to the Mountain, Paul Winter Consort
• Contemporary Jazz Album:The Stanley Clarke Band, The Stanley Clarke Band
• Jazz Vocal Album:Eleanora Fagan (1915-1959): To Billie With Love From Dee Dee, Dee Dee Bridgewater
LATIN:
• Latin Pop Album: Paraiso Express, Alejandro Sanz
• Latin Rock, Alternative or Urban Album: El Existential, Grupo Fantasma
• Tropical Latin Album: Viva La Tradición, Spanish Harlem Orchestra
• Tejano Album: Recuerdos, Little Joe & La Familia
• Norteño Album: Classic, Intocable
• Banda Album: Enamórate De Mí, El Güero Y Su Banda Centenario
JAZZ:
• Contemporary Jazz Album: The Stanley Clarke Band, The Stanley Clarke Band
• Jazz Vocal Album: Eleanora Fagan (1915-1959): To Billie With Love From Dee Dee, Dee Dee Bridgewater
• Improvised Jazz Solo: "A Change Is Gonna Come," Herbie Hancock (The Imagine Project)
• Jazz Instrumental Album, Individual or Group: Moody 4B, James Moody
• Large Jazz Ensemble Album: Live at Jazz Standard, Mingus Big Band
• Latin Jazz Album: Chucho's Steps, Chucho Valdés and the Afro-Cuban Messengers
GOSPEL:
• Gospel Performance: "Grace," BeBe & CeCe Winans, Still
• Gospel Song: "It's What I Do," Jerry Peters & Kirk Whalum, songwriters (Kirk Whalum & Lalah Hathaway), The Gospel According to Jazz Chapter III
• Rock or Rap Gospel Album: Hello Hurricane, Switchfoot
• Pop/Contemporary Gospel Album: Love God. Love People, Israel Houghton
• Southern, Country or Bluegrass Gospel Album: The Reason, Diamond Rio
• Traditional Gospel Album: Downtown Church, Patty Griffin
• Contemporary R&B Gospel Album: Still, BeBe & CeCe Winans
DANCE:
• Dance Recording: "Only Girl (in the World)," Rihanna
• Electronic/Dance Album: La Roux, La Roux
TRADITIONAL/ALTERNATIVE/WORLD:
• Alternative Music Album: Brothers, The Black Keys
• Americana Album: You Are Not Alone, Mavis Staples
• Bluegrass Album: Mountain Soul II, Patty Loveless
• Traditional Blues Album: Joined At The Hip, Pinetop Perkins & Willie 'Big Eyes' Smith
• Contemporary Blues Album: Living Proof, Buddy Guy
• Traditional Folk Album: Genuine Negro Jig, Carolina Chocolate Drops
• Contemporary Folk Album: God Willin' & The Creek Don't Rise, Ray LaMontagne and the Pariah Dogs
• Hawaiian Music Album: Huana Ke Aloha, Tia Carrere
• Native American Music Album: 2010 Gathering Of Nations Pow Wow: A Spirit's Dance, Various Artists
• Zydeco or Cajun Music Album: Zydeco Junkie, Chubby Carrier and the Bayou Swamp Band
• Reggae Album: Before The Dawn, Buju Banton
• Traditional World Music Album: Ali And Toumani, Ali Farka Touré & Toumani Diabaté
• Contemporary World Music Album: Throw Down Your Heart, Africa Sessions Part 2: Unreleased Tracks, Béla Fleck
• New Age Album: Miho: Journey to the Mountain, Paul Winter Consort
VISUAL MEDIA:
• Short Form Music Video: "Bad Romance," Lady Gaga
• Long Form Music Video: "When You're Strange," The Doors
• Spoken Word Album (Includes Poetry, Audio Books and Storytelling): The Daily Show With Jon Stewart Presents Earth (The Audiobook)
• Musical Show Album: American Idiot (Featuring Green Day)
• Compilation Soundtrack Album for Motion Picture, Television or Other Visual Media: Crazy Heart (Various Artists)
• Score Soundtrack Album for Motion Picture, Television or Other Visual Media: Toy Story 3, Randy Newman, composer
• Song Written for Motion Picture, Television or Other Visual Media: "The Weary Kind" (From Crazy Heart), Ryan Bingham & T Bone Burnett, songwriters
• Instrumental Composition: "The Path Among the Trees," Billy Childs, composer (Billy Childs Ensemble), Autumn: In Moving Pictures Jazz—Chamber Music Vol. 2
• Instrumental Arrangement: "Carlos," Vince Mendoza, arranger (John Scofield, Vince Mendoza & Metropole Orkest), 54
CLASSICAL:
• Engineered Album, Classical:Daugherty: Metropolis Symphony; Deus Ex Machina, Giancarlo Guerrero &Nashville Symphony Orchestra
• Producer of the Year, Classical: David Frost
• Classical Album:Verdi: Requiem, Chicago Symphony Orchestra; Chicago Symphony Chorus
• Orchestral Performance:Daugherty: Metropolis Symphony; Deus Ex Machina, Nashville Symphony
• Opera Recording:Saariaho: L'Amour De Loin, Deutsches Symphonie-Orchester Berlin
• Choral Performance:Verdi: Requiem, Chicago Symphony Orchestra; Chicago Symphony Chorus
• Instrumental Soloist(s) Performance (With Orchestra):Mozart: Piano Concertos Nos. 23 & 24, Mitsuko Uchida (The Cleveland Orchestra)
• Instrumental Soloist Performance (Without Orchestra): Paul Jacobs, Messiaen: Livre Du Saint-Sacrement
• Chamber Music Performance:Ligeti: String Quartets Nos. 1 & 2, Parker Quartet
• Small Ensemble Performance:Dinastia Borja, Jordi Savall, conductor; Hespèrion XXI & La Capella Reial De Catalunya
• Classical Vocal Performance:Sacrificium, Cecilia Bartoli (Giovanni Antonini; Il Giardino Armonico)
• Classical Contemporary Composition: Michael Daugherty: Deus Ex Machina, Michael Daugherty (Giancarlo Guerrero), Daugherty: Metropolis Symphony
• Classical Crossover Album:Christopher Tin: Calling All Dawns
• Surround Sound Album:Britten's Orchestra, Michael Stern & Kansas City Symphony
CHILDREN:
• Musical Album for Children: Tomorrow's Children, Pete Seeger with the Rivertown Kids and Friends
• Spoken Word Album for Children: Julie Andrews' Collection of Poems, Songs, and Lullabies, Julie Andrews & Emma Walton Hamilton
OTHER:
• Comedy Album: Lewis Black, Stark Raving Black
• Instrumental Arrangement Accompanying Vocalist(s): "Baba Yetu," Christopher Tin, Soweto Gospel Choir & Royal Philharmonic Orchestra, Calling All Dawns
• Recording Package: Brothers, The Black Keys
• Boxed or Special Limited-Edition Package: Under Great White Northern Lights (Limited Edition Box Set), The White Stripes
• Album Notes: Keep An Eye On The Sky, Big Star
• Historical Album: The Beatles (The Original Studio Recordings), The Beatles
• Engineered Album, Nonclassical: Battle Studies, John Mayer
• Producer of the Year, Nonclassical: Danger Mouse
• Remixed Recording, Nonclassical: "Revolver" (David Guetta's One Love Club Remix), Madonna
---