Vseh 6 filmov franšize Star Wars bo od 10. aprila 2015 naprej možno kupiti in legalno prenesti iz interneta, saj so se studii Walt Disney Studios, Lucasfilm in 20th Century Fox, končno dogovorili.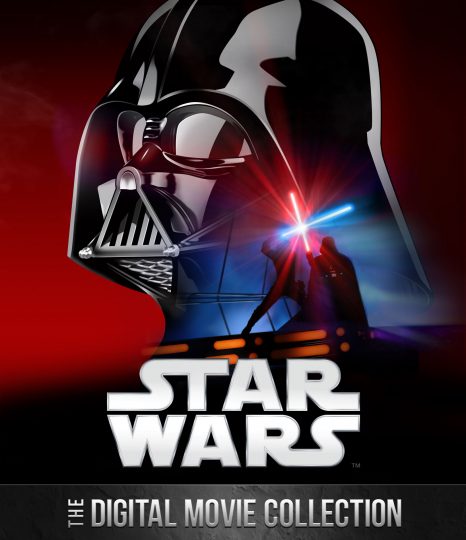 Star Wars filmi ("Star Wars: a New Hope" (1977), "The Empire Strikes Back" (1980), "Return of the Jedi" (1983), "The Phantom Menace" (1999), "Attack of the Clones" (2002), and "Revenge of the Sith" (2005)) bodo sedaj na voljo za digitalni prenos (digitalni nakup). Dostopnost so že potrdili Amazon, Google Play, iTunes. Kako bo z geografsko dostopnostjo še ni znano, a prej ali slej bomo filme dobili tudi v Sloveniji.
Dogovor med ključnimi akterji je prišel le nekaj mesecev pred prihodom sedmega filma Star Wars: The Force Awakens. Ta bo v ZDA na filmska platna prišel 18. decembra 2015.

Filmi bodo prišli z bonusi in sicer:
Star Wars: Episode I The Phantom Menace
Conversations: Doug Chiang Looks Back
Discoveries From Inside: Models & Miniatures
Legacy content includes "The Beginning"; The Podrace: Theatrical Edit; plus eight deleted scenes.
Star Wars: Episode II Attack of the Clones
Conversations: Sounds In Space
Discoveries From Inside: Costumes Revealed
Legacy content includes "From Puppets To Pixels: Digital Characters In Episode II"; State Of The Art: The Previsualization Of Episode II; and "Films Are Not Released, They Escape"; plus Episode II Visual Effects Breakdown Montage and six deleted scenes.
Star Wars: Episode III Revenge of the Sith
Conversations: The Star Wars That Almost Was
Discoveries From Inside: Hologram & Bloopers
Legacy content includes documentaries "Within A Minute: The Making Of Episode III"; The Journey Part 1; and The Journey Part 2; plus six deleted scenes.
Star Wars: Episode IV A New Hope (20th Century Fox)
Conversations: Creating A Universe
Discoveries From Inside: Weapons & The First Lightsaber
Legacy content includes "Anatomy Of A Dewback"; Star Wars Launch Trailer; plus eight deleted scenes.
Star Wars: Episode V The Empire Strikes Back
Conversations: The Lost Interviews
Discoveries From Inside: Matte Paintings Unveiled
Legacy content includes "A Conversation With The Masters" (2010); "Dennis Muren: How Walkers Walk"; "George Lucas On Editing The Empire Strikes Back 1979"; and "George Lucas On The Force: 2010"; plus six deleted scenes.
Star Wars: Episode VI Return of the Jedi
Conversations: The Effects
Discoveries From Inside: The Sounds Of Ben Burtt
Legacy content includes "Classic Creatures: Return Of The Jedi"; "Revenge Of The Jedi Teaser Trailer"; Return Of The Jedi Launch Trailer; "It Began TV Spot"; "Climactic Chapter TV Spot"; plus five deleted scenes.
---