Seznam Netflix TOP 10 (filmi in serije) v Sloveniji (18.10.2020 / 42. teden) na prvem mestu ohranja serijo Emily in Paris, drugo in tretje mesto pa se je glede na pretekli teden zgolj obrnilo. The Haunting of Bly Manor zdaj zaseda 2. mesto, Hubie Halloween pa je 3.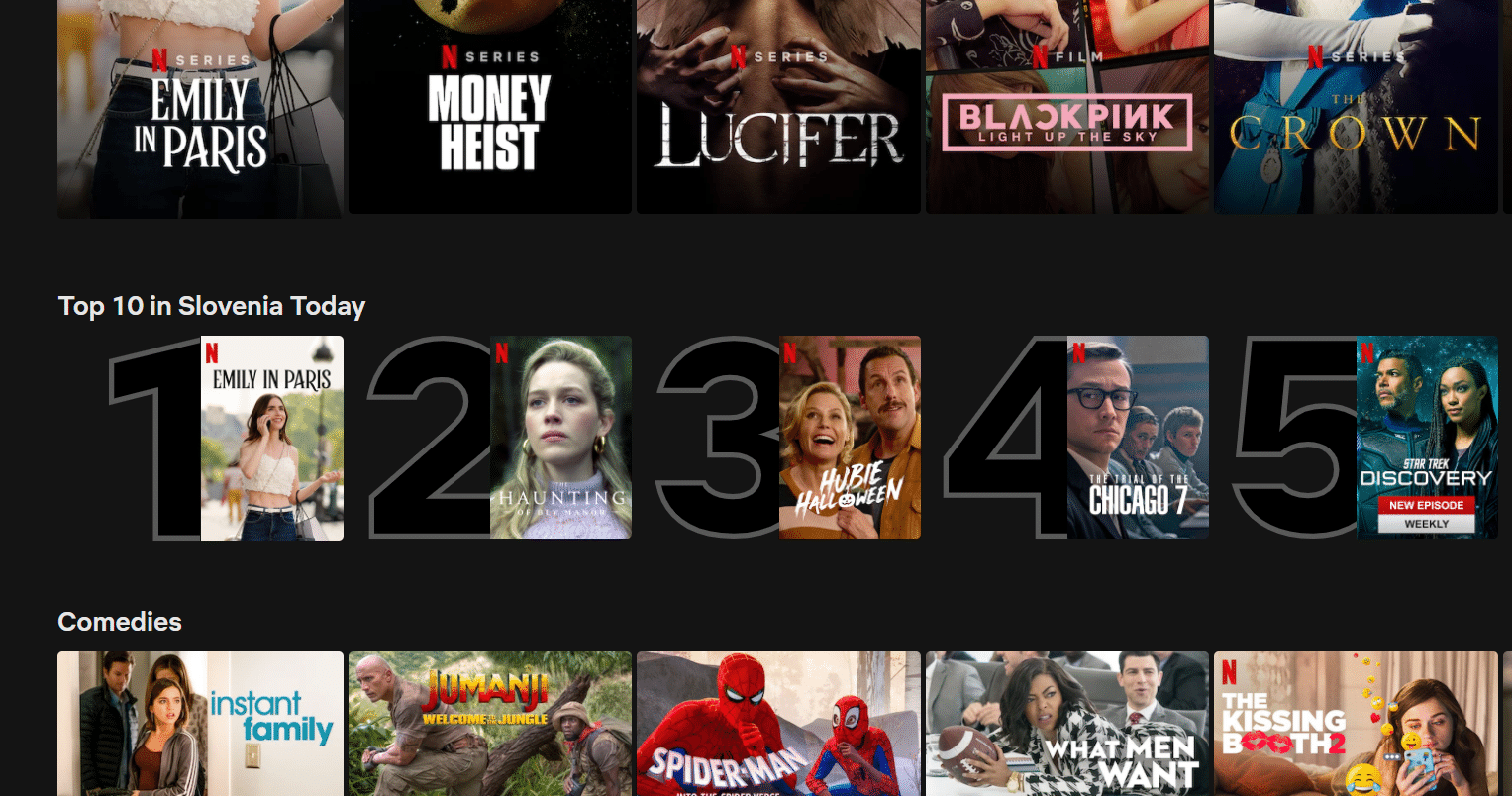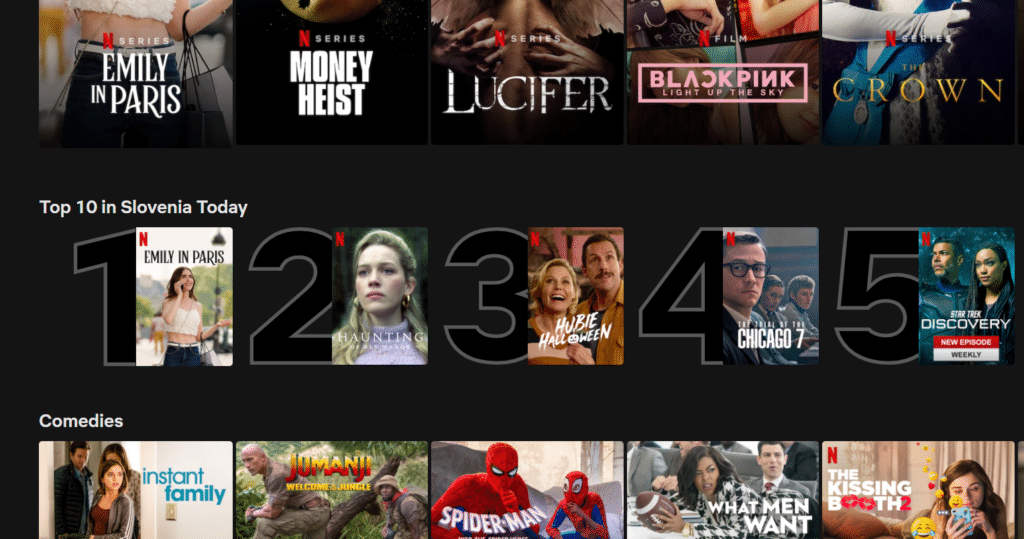 The Trial of the Chicago 7 in 3. sezona serije Star Trek: Discovery
Dve novosti sta se uvrstili na Netflixov TOP 10 seznam v Sloveniji ta teden. To sta zgodovinsko pravna drama The Trial of the Chicago 7 in 3. sezona znanstvenofantastične serije Star Trek: Discovery.
Film The Trial of the Chicago 7 sledi čikaški sedmerici (Chicago Seven), skupini protestnikov proti vietnamski vojni, ki je bila obtožena zarote in prestopa državne meje z namenom spodbujanja izgredov na demokratski nacionalni konvenciji leta 1968 v Chicagu. Režiser filma je Aaron Sorkin, bi pa film moral po prvotnih načrtih doživeti lansiranje v kino dvoranah s strani Paramount Pictures, a je zaradi epidemije COVID-19 izključne distribucijske pravice kupil Netflix.
Star Trek: Discovery se je v petek, 17.10.2020 vrnil s prvo epizodo 3. sezone. Nova sezona se začne s skokom Michael Burnham v prihodnost, kjer ni več Združene federacije planetov. Skoku Michael Burnham bi morala slediti tudi vesoljska ladja USS Discovery, a iskanje te bo kot kaže še precej zapleten proces. Nove epizode serije Star Trek: Discovery si bo v Sloveniji na Netflix možno ogledati ob petkih do 8. januarja 2021, ko bo na sporedu 13. epizoda.
Netflix TOP 10 (filmi in serije) v Sloveniji (Danes, 18.10.2020)
Netflix TOP 10 filmi v Sloveniji (najbolj gledano celoten 42. teden)
Hubie Halloween (Netflix Original film)
David Attenborough: A Life on Our Planet (Netflix Original dokumentarec)
The Social Dilemma (Netflix Original film)
Enola Holmes (Netflix Original film)
Escape Room
BLACKPINK: Light Up the Sky (Netflix Original film)
American Murder: The Family Next Door
365 Days
The Gambler
What Men Want
Netflix TOP 10 serije v Sloveniji (najbolj gledano celoten 42. teden)
Emily in Paris (Netflix Original serija)
The Haunting of Bly Manor (Netflix Original serija)
Family Guy
To the Lake (Netflix Original serija)
Ratched (Netflix Original serija)
Friends
Modern Family
Lucifer (Netflix Original serija)
Undercover (Netflix Original serija)
The Good Place (Netflix Original serija)
---